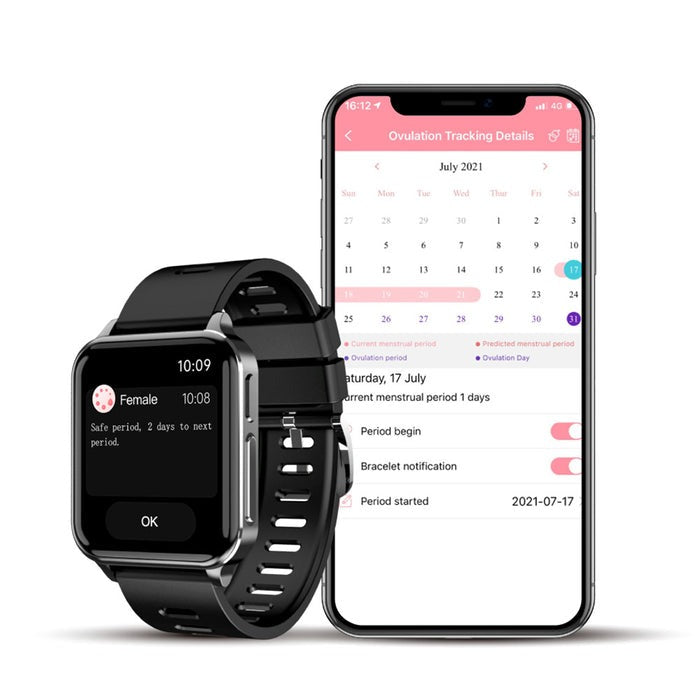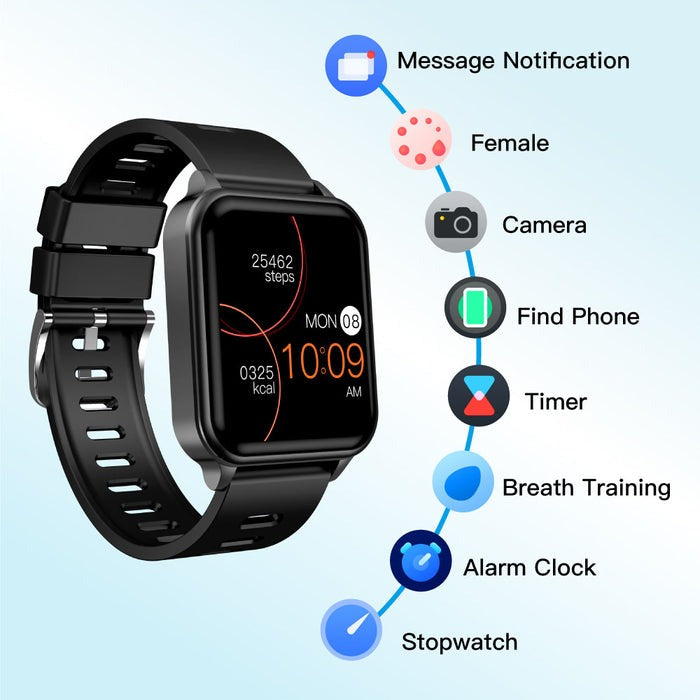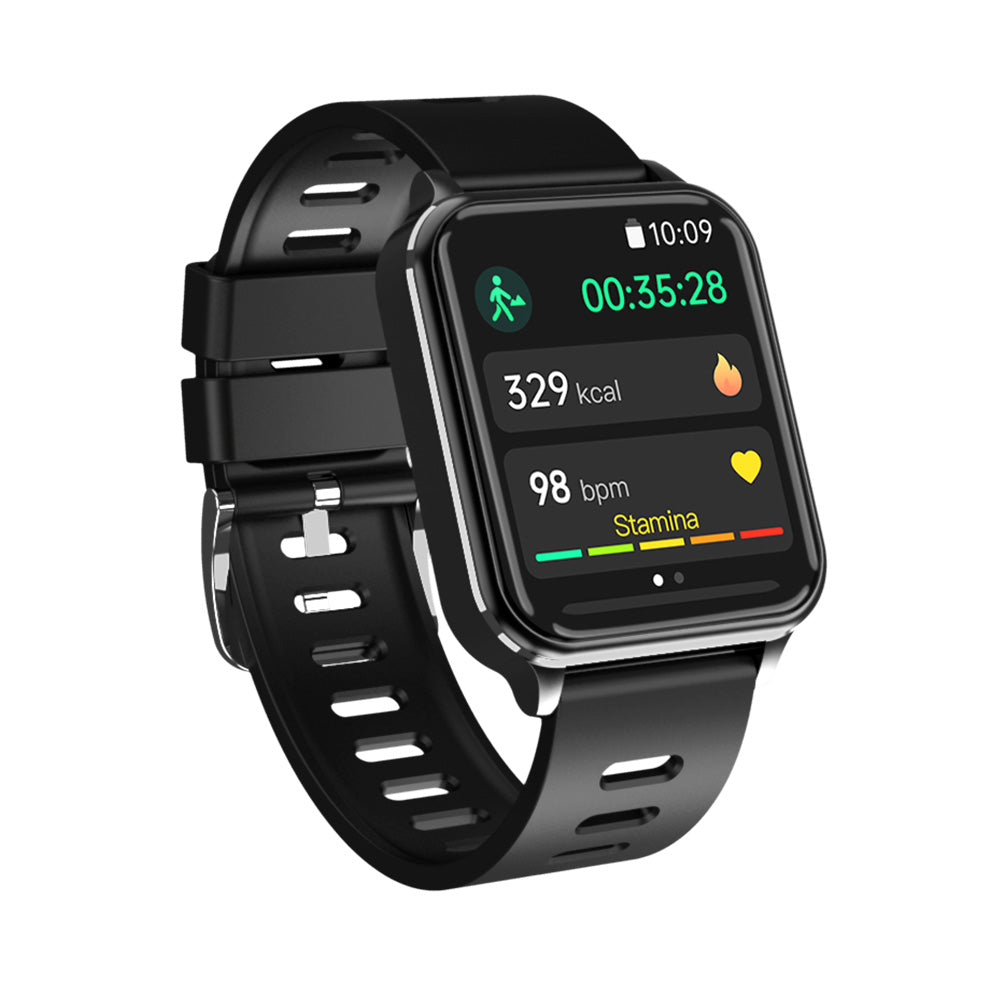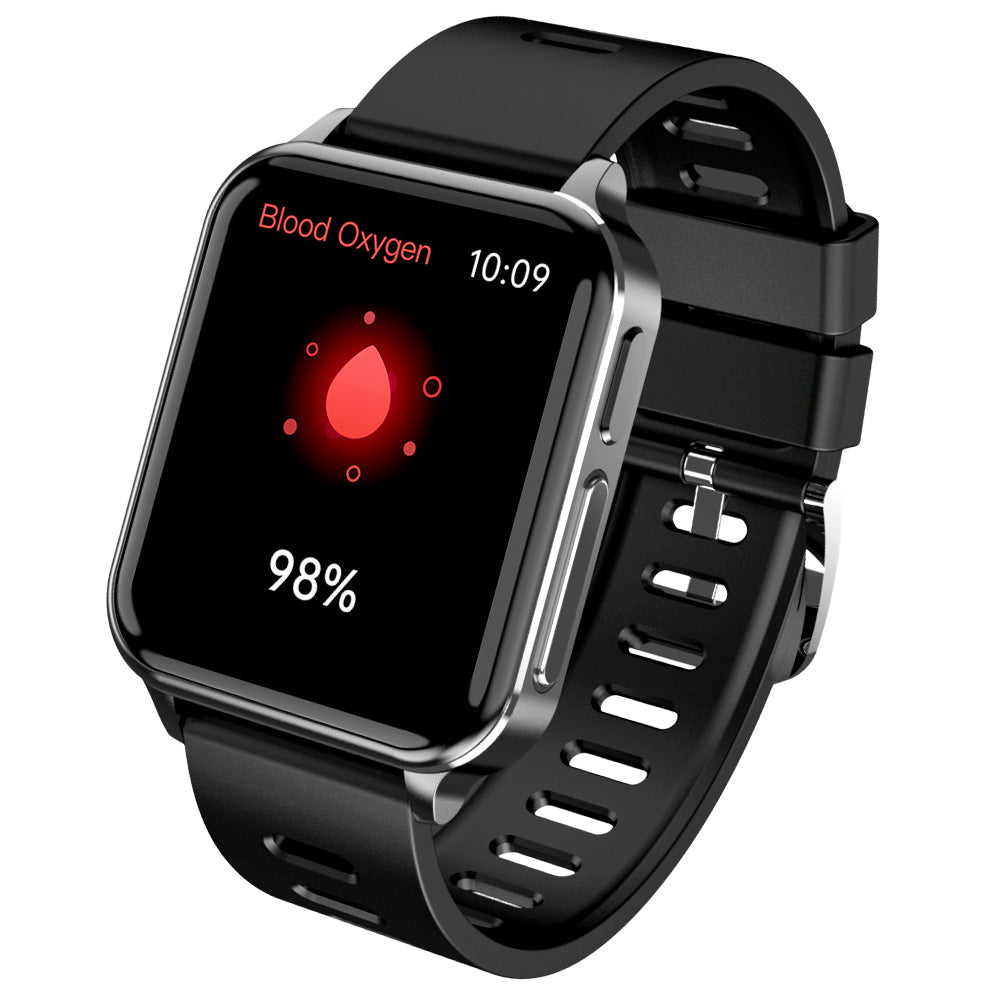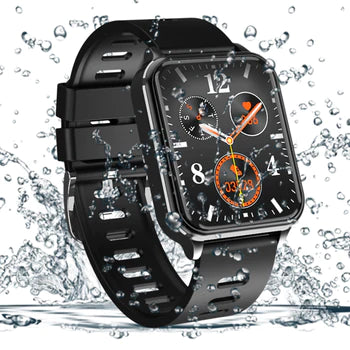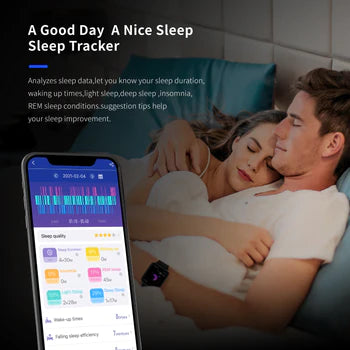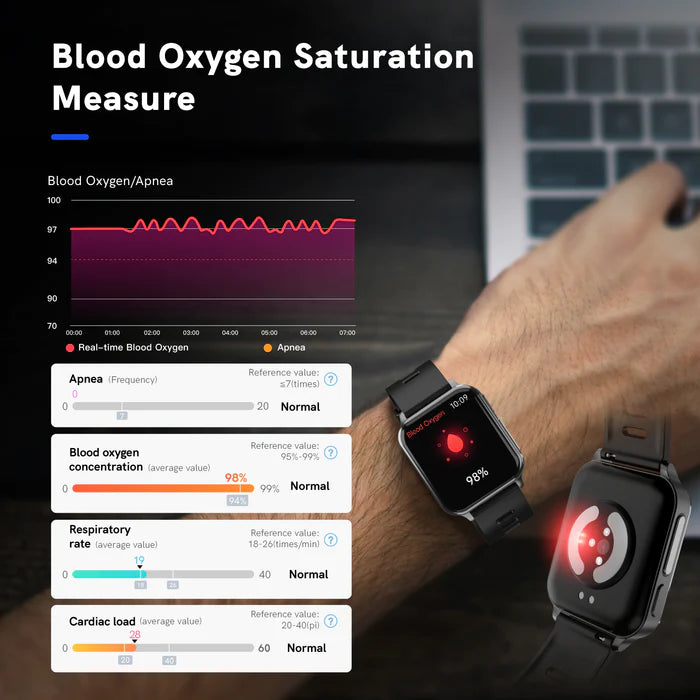 Bearscome CFDA RIG With ECG Blood Oxygen Heart Rate Sleep Monitoring Health SmartWatch
🚚Transport within 72 hours

🎉🎉Merry Christmas!!

🎁🎁Christmas discount: BC10%
Us warehouse delivery, faster delivery time
Main Funtions
🏥 ECG / EKG (Electrocardiogram) on Hands
-Take an ECG any time, anywhere that comes with a complete waveform report.

 
Accurately records real ECG signals and generates ECG waveforms similar to single-lead ECGs within 30s. Potential to detect thirteen types of abnormal cardiac signals such as atrial fibrillation, and perform analysis to evaluate overall heart health for reference.
*This app is not a medical device. Data obtained during the use of this app is for reference only, and should not be used for medical research, diagnostic, or treatment purposes. Please read the Instructions thoroughly.
Leading Multi-channel Optical Bio Sensor Design - More Accurate Result
7-Channel Light Path Design & 6 Led Light Sources, 3 Electrodes and Specifically Developed Monitoring Algorithms
💗 24 hrs Non-stop Heart Rate Monitoring
-Notifies you when resting heart rate exceeds the normal range
RIG can accurately monitor your heart rate 24 hrs and it alerts you when your heart rate is higher or lower than normal range. It can also record your maximum, fat burning, warm-up, and resting heart rate, displays vital statistics through-out the day as well as during different activities so you can keep an eyes on overall patterns and abnomalities to help you with analyzing exercise efficiency.
-Heart Rate Variability. 
The easy-to-understand Lorenz scatter diagram analysis can accurately and intuitively express the overall variability and instantaneous variability of heart rate
💤 

Sleep Smarter With RIG.
-Automatically Starts Tracking
when users fall asleep
even if it's just a few minutes nap.
Identifies user's sleep stages with high precision and restores detailed sleep cycle data including duration, deep sleep & light sleep, insomnia, wake-up time, REM sleep, sleep efficiency. Set up a bedtime routine and improve your sleep quality!
-Sleep Health Analysis. Screen for symptoms of dangerous sleep apnea and tracks data such as heart load, body movement and other time-synchronized physiological information in order to comprehensively analyze  your sleep health~
-Your body will be affected seriously when it remains at low blood oxygen levels. RIG automatically measures the blood oxygen saturation level at night from 0:00-7:00 am, using a sophisticated machine learning program to identify sleep apnea,cardiac load, abnormal sleep behaviors, respiratory rate, hypoxia period. Detect changes in your blood oxygen levels and alert you at night when it drops to an unsafe level, helping you to predict potential health risks in advance.
🩸 BLOOD OXYGEN SATURATION(SpO2)
-Two groups of red led light and infrared led light coupled with
expertly developed blood oxygen algorithm
to determine your blood oxygen level.
Automatically monitors Spo² level at night to prevent apnea, if your Spo² values remain in a dangerous range, which may affect your health, RIG will issue an alarm in time.
MORE FUNCTIONS
💧 
IP68 Waterproof & Dustproof
It is always inevitable to encounter water and dust in life. RIG is deemed fit enough to withstand dust, dirt, and sand and resistant to submersion up to a maximum depth of 1.5m underwater for up to thirty minutes
 🚴 Multiple Sport Modes Achieve New Breakthroughs
-Steps, distance, calories, setting goals, 10 modes of workout, the record of activity will help you plan exercises one step ahead. Watch RIG records your exercise data so that you can better understand the details of your workouts. Let's achieve new breakthroughs together!
 -Realtime Step Counter
Intelligent sport step counter, equipped with precise tri-axis motion sensors. Incorporating a scientific fitness data management system to avoid error calculation.
🙋‍♀️ Female Health
Menstrual Cycle Tracker & Reminder -
Physiological period and pregnancy record tracking. Protect women's health
📲 Sync Call & Message to RIG in Time
Message Reminder synchronously receives the notifications of email, SMS and SNS(including Facebook, WhatsApp, Skype, Instagram, Twitter, and more app). Watch RIG also supports rejecting or muting the incoming calls. You will never miss a call or message!
Personalize watch's Dial by uploading your own photos or selecting from our constantly updated dial gallery
PRODUCT DETAILS
Please note:
1. The product is not a medical device. Message content is for reference only, and should not be used for clinical diagnosis.
2. Not applicable to users under age 18, or those diagnosed with other types of arrhythmia. Please read the instructions thoroughly.
3. in the case of arrhythmia measuring blood pressure, can lead to blood pressure measurement error.
4. This product measures radial blood pressure at the wrist, blood viscosity is high, poor circulation, and vascular sclerosis patients (such as diabetes, hyperlipidemia, hypertension, cerebral thrombosis, etc.), which may cause data measurement error.
5. measurement, please lift the wrist with this product to flush with the heart.
6. 5-10 minutes before the measurement do not do vigorous exercise, sitting or lying position, please don't talk during the measurement process.
7. This product can be worn during shallow water activities, such as swimming in pools and shallow waters along the coast, but not for long periods of time in the water. It should not work in hot showers, hot springs, or saunas (steam rooms), nor during platform dives, high-pressure rinsing, or other activities that involve high water pressure, high temperatures, high levels of humidity, or fast-flowing water. It is not suitable for scuba dives, or technical dives. Rinse off the watch with fresh water after using it in ocean water. Leather and metal straps are not designed to withstand swimming or sweat. It is recommended that you wear other types of straps, in such scenarios. Water resistance is not permanent, and protection may decrease with daily wear and tear.
Bearscome RIG With Blood Oxygen Heart Rate Sleep Monitoring Health Smart Watch
It's great. I can check my sleep status, monitor my blood pressure, oxygen, ECG, etc. It's a good healthy watch
RIG Smart Watch
Very easy to use right out of the box. Just download the app on your phone and it will pair and you're all set. Can confirm that it works with iPhone.
I really like this product. It's the first watch I've ever bought that's officially compatible with my phone.
Bearscome RIG With Blood Oxygen Heart Rate Sleep Monitoring Health Smart Watch
I had an issue, but they was so quick to take care of it . Very easy to work with. 👌 Thank you
Bearscome RIG With Blood Oxygen Heart Rate Sleep Monitoring Health Smart Watch
his watch does everything I want and need to know.